I usually hate all kinds of surveys, and I love to give wrong answers to surveyors. And this from someone who works in an organisation where a ritual sacrifice of an issue is made to the altar of the god of surveys on average once a month. Why don't I trust surveys?
Because, a new survey I believe says that if you stay fat, you'll live longer.
And of course, there are those brilliant surveys conducted by organisations with a sample size of ten. Then there are Indian electoral opinion polls, which can never get anything right. Anyway, before I take off on some obscene Monday morning rant, there is a survey being conducted by MIT's Cameron Marlow, the guy who created the
Blogdex
service. The survey is a survey about Bloggers and the why's and how's of blogging. Take some time out and take part, a bit seriously.
Anyway, its a nice Monday morning and looking outside I can see not only the fact that the Metro construction has meant that the local station has a roof - aquamarine, but then again and its raining. Wonderful. Anyway, remember school, and all the stupid crass jokes you used to scrawl on the bogs.
Well, here are some bog interesting scrawls from 18th century London.
When you know that the Japanese start taking 'Hello Kitty' a bit toooooo seriously.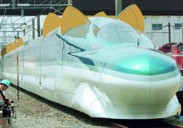 Saddam has written a novel -

Get out, Damned one.
And this is a gadzmo (in the true sense of the word I just concocted) that makes ice-cream
Gentlemen, a proven(?) way of extending your ding-dong
If you guys are looking to listen to something interesting for a change from the usual Boobney Spears sort of stuff, get the new album of
The White Stripes
. It's called
Get behind me Satan
, and I'ld dub it as interesting. Quite listenable.
Talking about Boobney Spears....
Outfits fer yer ding-dong!
Anyway, I must go now and ponder why the Supreme Court has taken away the right of Delhi-ites not to have billboards. Such a pity! Of course, if we did have billboards we could be awash in Purple and Red like Mumbai.