Given that I usually follow no given order to my posts and after a post where I indulge in a bit of Lalu-bashing and questioning the non-existant ethics and moralities of the Indian Communist movement, I've decided to talk of generally stupid stuff today.
But first, I have for the last week been reading the funniest blog that I have come across in a long time - it is
Scott Adam's blog called (and this is the only unimaginative thing about the blog) The Dilbert Blog
. I've always loved Adam's work (and his appreciation for India through Asok, the underpaid Indian intern from IIT - I think Adam's IIT strips are hilarious) and his blog just demonstrates the way information and content distribution are being altered by the internet. I would expect many other mainstream cartoonists and columnists to start maintaining blogs soon. But, for the time being this is my favourite blog!
Yesterday, I had what can be described as a hectic day. I got into town at 8.30 in the morning (something which involved a 6.30 wake-up) because office was organising a breakfast round-table. The round-table was an extremely interesting one, but I don't blog about work here, and I'm not starting now.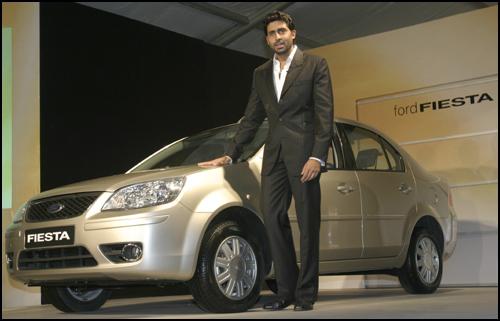 In the afternoon, Ford was announcing their new brand ambassador for India -
I had been informed that the man was Bachchan Jr
, but I went along to the presser anyway. Now, when I arrived I was informed by the PR reps outside the event (taking place in a big shamiana at the Land's End) that I could meet the man after the presser, not that I was terribly keen, but my photographer answered in the positive for me anyway.
So, I met Abhishek Bachchan. In my four and a half years as a journalist, I have never met an A-Grade (Yaar, he is A-Grade by now!) Bollywood star for a formal one-on-one interview. I've met a lot of people, MD's of large PSU's, Ministers, CEOs of Fortune 500 companies, but never a Bollywood Star - well I did meet Subhash Ghai once, and I have met characters at three of Subrata Roy's 'events' (Don't ask). And I had a pretty decent interview I must add - we spoke of his 'cars' (not his women) and endorsements (like the flopped Versa deal) and movies. I was surprised at how pleasant the interview considering that I do have a photographer colleague (not the one who came with me) whose claim to fame was a fisticuffs sessions with Bachchan Junior at a Delhi club.
The Ford Fiesta has been very well priced, and while
I slagged off the car in a previous post
, I was expecting it to be priced a lot higher than Ford did actually price it and this car is more Honda City competition than Honda Civic cometition. The base model 1.4 Petrol Fiesta EXi costs Rs 5.8 lakhs ex-showroom in Mumbai, and the Diesel 1.4 ZXi costs Rs 7.3 lakhs in Mumbai ex-showroom. The 1.6 Petrol comes in two versions the ZXi and the sporty SXi and are priced in towards the higher end of the six-lakh bracket. The Diesel car seems like a surprisingly smart buy, which is why Arvind Matthew, the MD of Ford India told me that he expects the sales spread to 50:50 between Diesel and Petrol. The car is also a lot bigger than the Ikon, this car looks (and is) a lot larger than the Honda City (but has similar interior space because of the City's revolutionary space saving design). And its nowhere near the fitment level of the European Fiesta, but given the Indian automotive tax structure, I think it is very well priced. I wonder how much money Ford will make on the car - but I wouldn't put 2000-3000 units a month of the Fiesta in the near future beyond them. However, Matthew did add that this was an 'introductory' price, kinda like what Maruti did with the Swift, however, even a 10-20k rise in the prices of the Swift didn't slow down demand,
so Ford thinks they can pull off a 20-30k price hike on this car
(so if you want one book your Fiesta now!) And this car coulf finally mark the end of the Accent, Baleno and higher-end models of the Ikon.
EDIT : People think this template is a bit harsh on the eyes. I'll try and revert to a dark-on-light template rather than the white-on-black I'm using here, however I'm open to suggestions on what template I should use - not the standard Blogger templates, so please do suggest. I got this template from the
Blogger Templates
blog,
I've seen other ones here
, but I'll keep looking until Saturday, which is a good day to change over. Suggestions please!